Professor David Henderson (1927-2018)
Date: 01/10/18
Global Warming Policy Foundation
It is with regret that I have to announce the death of my father David (P.D.) Henderson on Sunday September 30th 2018.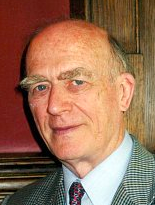 Aged 91 years, he was formerly Head of what was then the Economics and Statistics Department of the Organisation for Economic Cooperation and Development (OECD) in Paris. After taking a first class degree at Corpus Christi Oxford he was Tutorial fellow at Lincoln College Oxford. He went on to be an economic adviser at Her Majesty's Treasury in the 1950s and subsequently as Chief Economist at the Ministry of Aviation in the 1960s. He became Director of the Economics Department at the World Bank between 1969-75 during Robert McNamara's presidency. He returned to London in 1974 to take up a chair in Political Economy at University College London leaving in 1982 to become Chief Economist at the OECD.
Since leaving the OECD he has been an independent author and consultant and has acted as visiting fellow or professor at the OECD Development Centre in Paris, the Centre for European Policy Studies (Brussels), Monash University (Melbourne), the Fondation Nationale des Sciences Politiques (Paris), the University of Melbourne, Royal Institute of International Affairs (London), the New Zealand Business Roundtable (Wellington), the Melbourne Business School, Institute for Economic Affairs (London). From 2001-9 he was a visiting professor at the Westminster Business School, London. He was the founding chairman of the Academic Advisory Council of the Global Warming Policy Foundation (GWPF) founded by Nigel (Lord Lawson).
He is an Honorary Fellow of Lincoln College, Oxford and in 1992 he was made Companion of the Order of St Michael and St George.
A great mind he was also a wonderful family man and will be much missed by his son John, sister Jane and four grandchildren.
John Henderson <jjtahendersons@btopenworld.com>