Clive James, Legendary Author, Poet, Humorist & Climate Sceptic Has Died
Date: 27/11/19
Global Warming Policy Foundation
The Australian author, poet journalist and humorist Clive James has died, aged 80. We republish his GWPF Essay Mass Death Dies Hard in his memory.
Imminent Catastrophe

The imminent catastrophe goes on
Not showing many signs of happening.
The ice at the North Pole that should be gone
By now, is awkwardly still lingering,
And though sometimes the weather is extreme
It seems no more so than when we were young
Who soon will hear no more of this grim theme
Reiterated in the special tongue
Of manufactured fright. Sea Level Rise
Will be here soon and could do such-and-such,
Say tenured pundits with unblinking eyes.
Continuing to not go up by much,
The sea supports the sceptics, but they, too,
Lapse into oratory when they predict
The sure collapse of the alarmist view
Like a house of cards, for they could not have picked
A metaphor less suited to their wish.
A house of cards subsides with just a sigh
And all the cards are still there.
Feverish Talk of apocalypse might, by and by,
Die down, but the deep anguish will persist.
His death, and not the Earth's, is the true fear
That motivates the doomsday fantasist:
There can be no world if he is not here.
— Clive James, March 2016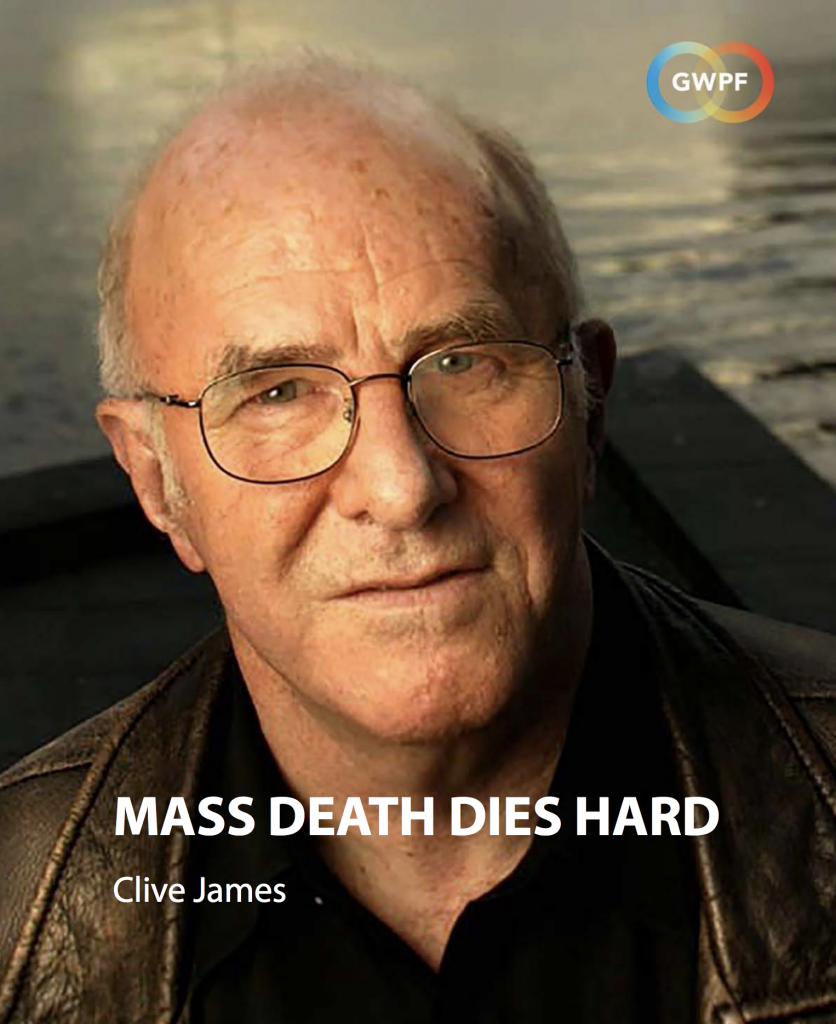 Clive James: Mass Death Dies Hard
Global Warming Policy Foundation, July 2017
When you tell people once too often that the missing extra heat is hiding in the ocean, they will switch over to watch Game of Thrones, where the dialogue is less ridiculous and all the threats come true.
The proponents of man-made climate catastrophe asked us for so many leaps of faith that they were bound to run out of credibility in the end. Now that they finally seem to be doing so, it could be a good time for those of us who have never been convinced by all those urgent warnings to start warning each other that we might be making a comparably senseless tactical error if we expect the elastic cause of the catastrophists, and all of its exponents, to go away in a hurry.
I speak as one who knows nothing about the mathematics involved in modelling non-linear systems. But I do know quite a lot about the mass media, and far too much about the abuse of language. So I feel qualified to advise against any triumphalist urge to compare the apparently imminent disintegration of the alarmist cause to the collapse of a house of cards. Devotees of that fond idea haven't thought hard enough about their metaphor. A house of cards collapses only with a sigh, and when it has finished collapsing all the cards are still there.
Although the alarmists might finally have to face that they will not get much more of what they want on a policy level, they will surely, on the level of their own employment, go on wanting their salaries and prestige. To take a conspicuous if ludicrous case, the Australian climate star Tim Flannery will probably not, of his own free will, shrink back to the position conferred by his original metier, as an expert on the extinction of the giant wombat. He is far more likely to go on being, and wishing to be, one of the mass media's mobile oracles about climate. While that possibility continues, it will go on being dangerous to stand between him and a TV camera. If the giant wombat could have moved at that speed, it would still be with us.
The mere fact that few of Flannery's predictions have ever come even remotely true need not be enough to discredit him. The same fact, in the case of America's Professor Ehrlich, has left him untouched ever since he predicted that the world would soon run out of copper. In those days, when our current phase of the long discussion about man's attack on nature was just beginning, he predicted mass death by extreme cold. Lately he predicts mass death by extreme heat. But he has always predicted mass death by extreme something, and he is always Professor Ehrlich.
Actually, a more illustrative starting point for the theme of the permanently imminent climatic apocalypse might be taken as 3 August 1971, when the Sydney Morning Herald announced that the Great Barrier Reef would be dead in six months. After six months the reef had not died, but it has been going to die almost as soon as that ever 1 since; making it a strangely durable emblem for all those who have wedded themselves to the notion of climate catastrophe.
The most exalted of all the world's predictors of reef death, President Obama, has still not seen the reef even now but he promises to go there one day when it is well again. Assurances that it has never really been sick won't be coming from his senior science adviser John Holdren. In the middle of 2016 some of the long-term experts on reef death began admitting that they had all been overdoing the propaganda. After almost half a century of reef death prediction, this was the first instance of one group of reef death predictors telling another group to dial down the alarmism, or they would queer the pitch for everybody. But an old hand like Holdren knows better than to listen to sudden outbursts of moderation. Back in the day, when extreme cooling was the fashion, he was an extreme coolist. Lately he is an extreme warmist. He will surely continue to be an extremist of some kind, even if he has to be an extreme moderate. And after all, his boss was right about the ocean. In his acceptance speech at the 2008 Democratic convention, Obama said – and I truly wish that this were an inaccurate paraphrase – that people should vote for him if they wanted to stop the ocean rising. He got elected, and it didn't rise.
The notion of a count-down or a tipping point is very dear to both wings of this deaf shouting match, and really is of small use to either. On the catastrophist wing, whose 'narrative', as they might put it, would so often seem to be a synthesised film script left overfrom the era of surround-sound disaster movies, there is always a countdown to the tipping point. When the scientists are the main contributors to the script, the tipping point will be something like the forever forthcoming moment when the Gulf Stream turns upside down or the Antarctic ice sheet comes off its hinges, or any other extreme event which, although it persists in not happening, could happen sooner than we think (science correspondents who can write a phrase like 'sooner than we think' seldom realise that they might have already lost you with the word 'could').
When the politicians join in the writing, the dramatic language declines to the infantile. There are only 50 days (Gordon Brown) or 100 months (Prince Charles wearing his political hat) left for mankind to 'do something' about 'the greatest moral challenge . . . of our generation'. (Kevin Rudd, before he arrived at the Copenhagen climate shindig in 2009.)