Wind Farms 'Will Be Paid Billions To Switch Off'
Date: 08/01/14
Mike Wade, The Times
Power generation companies could receive more than £20 billion in "constraint payments" from National Grid not to produce electricity, according to figures published last night.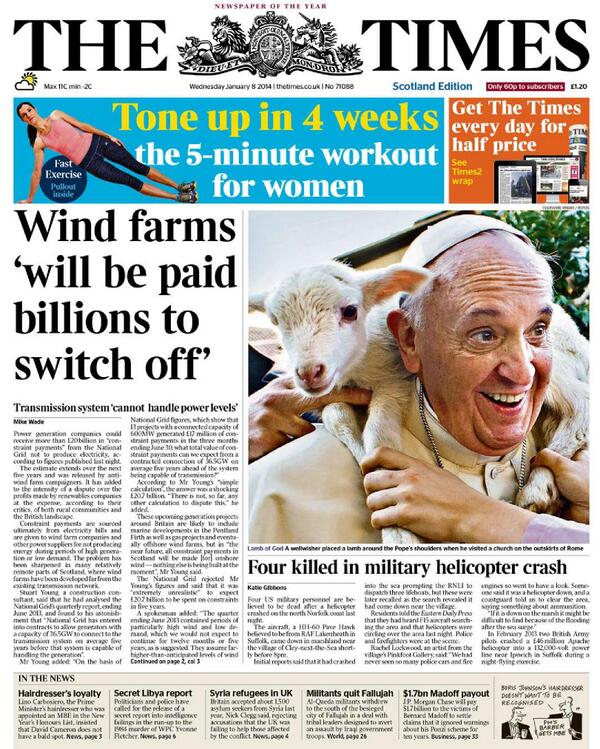 The estimate extends over the next five years and was released by anti-wind farm campaigners. It has added to the intensity of a dispute over the profits made by renewables companies at the expense, according to their critics, of both rural communities and the British landscape.
Constraint payments are sourced ultimately from electricity bills and are given to wind farm companies and other power suppliers for not producing energy during periods of high generation or low demand. The problem has been sharpened in many relatively remote parts of Scotland, where wind farms have been developed far from the existing transmission network.
Stuart Young, a construction consultant, said that he had analysed the National Grid's quarterly report, ending June 2013, and found to his astonishment that "National Grid has entered into contracts to allow generators with a capacity of 36.5GW to connect to the transmission system on average five years before that system is capable of handling the generation".
Mr Young added: "On the basis of National Grid figures, which show that 13 projects with a connected capacity of 600MW generated £17 million of constraint payments in the three months ending June 30, what total value of constraint payments can we expect from a contracted connection of 36.5GW on average five years ahead of the system being capable of transmission?"
According to Mr Young's "simple calculation", the answer was a shocking £20.7 billion. "There is not, so far, any other calculation to dispute this," he added.
These upcoming generation projects around Britain are likely to include marine developments in the Pentland Firth as well as gas projects and eventually offshore wind farms, but in "the near future, all constraint payments in Scotland will be made [for] onshore wind — nothing else is being built at the moment", Mr Young said.
The National Grid rejected Mr Young's figures and said that it was "extremely unrealistic" to expect £20.7 billion to be spent on constraints in five years.