Methane Hydrates: China Follows Japan In Pursuit Of New Energy Source
Date: 07/09/13
Linyi Zhang, Circle of Blue
Not to be outdone by their neighbors and rivals from Japan, Chinese scientists this summer have set out to find a potentially vast new source of cleaner-burning fossil fuels, located beneath the floor of the South China Sea.
The exploration comes five months after Japan announced in March that it had extracted natural gas from a new source of energy — methane hydrate, a type of natural gas that is trapped in an ice shield and forms when methane and water combine at high pressure and low temperature — from the deepwater seabeds in the Pacific Ocean, off Aichi Prefecture. Japan has since announced that it has found more than 200 other sources of methane hydrate in the seabeds surrounding the island nation.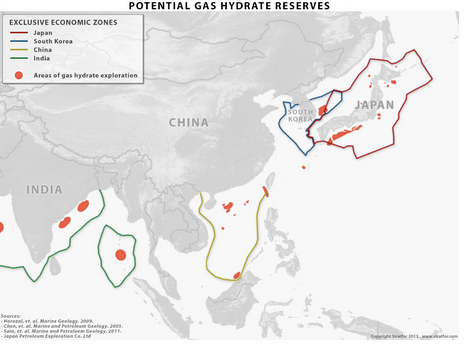 Methane hydrate reserves have the potential to contain more energy than any other fossil fuel, according to the U.S. Geological Survey and a 2011 study by the Massachusetts Institute of Technology (MIT). Just one cubic meter of pure methane hydrate can be depressurized and warmed to produce more than 160 cubic meters of methane gas (or one cubic foot can produce 164 cubic feet) at room temperature and ambiant pressure.
Scientists estimate that 99 percent of methane hydrate reserves exist at water depths ranging from 300 meters (984 feet) to more than 4,000 meters (13,123 feet), depths that encompass much of the planet. The methane hydrates are then buried an additional 50 to 250 meters (165 to 805 feet) below the ocean floor.
With 32,000 kilometers (19,884miles) of ocean shoreline, China is hoping to find its own stockpile of underwater methane hydrate reserves. Some Chinese experts have even compared the energy potential of methane hydrate reserves in the South China Sea to that in Daqing — China's largest oil field, discovered in 1959 — which produced 293 million barrels of oil in 2012. That is 50 million barrels more than the shale boom of North Dakota produced in 2012, according to U.S. Energy Information Administration.
Still, though the potential energy reserve is high, some energy authorities are not sure that methane hydrate can be a game changer for China, especially when commercial production appears so far away.
"The recent Japan pilot — which indeed was successful — is for a particular geologic setting and hydrate play. And, even there, it is unclear whether production could be sustained at high rates and for long periods of time," said Ruben Juanes, associate professor in energy studies at MIT, during an interview with Circle of Blue. "It is unclear that hydrate production can be commercial in the short and medium term, especially in light of the recent shale gas development. It is not easy for me to see when hydrate could play a big role in the energy mix."
Unconventional Gas Markets
Deteriorating air quality and rising carbon emissions are driving China's urgent shift from coal combustion, which currently makes up 70 percent of the nation's energy consumption. China's clean energy sector is the world's largest, due to increases in power generation from wind and water over the last decade. Likewise, demand for cleaner-burning natural gas in China has experienced a four-fold increase over the past decade.
But the Chinese have been less competent in developing reserves of unconventional natural gas, specifically coal bed methane and deep shale gas. Technology challenges and water scarcity have been barriers to bringing gas to market, despite that there is a national push to boost the production and use of natural gas by exploring every possible source.
For instance, local officials resist unlocking shale gas — of which there is believed to be large supplies in northern and western China — unless the existing hydraulic fracturing (fracking) technology can be improved. As it stands now, each well uses approximately 11,000 to 19,000 cubic meters (3 million to 5 million gallons) of water per frack.
The process of tapping deep seabed methane hydrate by depressurization, meanwhile, does not involve water use at all. On the contrary, it produces water with no salts, which some models suggest could be an important commodity — either for energy production or human consumption, depending on quantities produced — according to Tim Collett, a research geologist at the United States Geological Survey (USGS) who studies gas hydrates. However, the technology for extracting commercial quantities of gas at reasonable costs is far from being perfected, especially because dissociated, depressurized methane hydrates tend to reform if temperatures drop and pressures increase.