Go Frack Yourself, Obama Tell EU Leaders
Date: 27/03/14
Ian Traynor, The Guardian
EU seeks to break Russian stranglehold on energy supplies – but US president says Europe must step up its own fracking.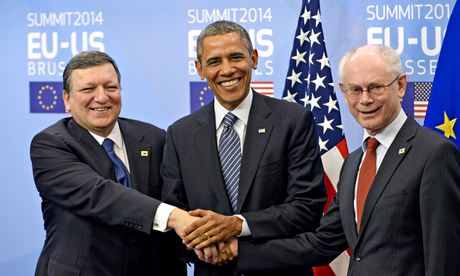 President of the European commission Jose Manuel Barroso, US president Barack Obama and president of the European council Herman van Rompuy at the summit in Brussels. Photograph: Photonews/Photonews via Getty Images
European leaders on Wednesday asked Barack Obama to share the US's shale gas bonanza with Europe by facilitating gas exports to help counter the stranglehold Russia has on the continent's energy needs.
At an EU-US summit in Brussels, Barack Obama's first visit to the city in office, the impact of Vladimir Putin's seizure of Ukraine's Crimea peninsula loomed large, affecting transatlantic relations in various ways – from defence spending to energy policies and trade talks.
With Russia's gas monopoly, Gazprom, supplying a quarter of Europe's gas needs, and almost all of the gas in parts of eastern Europe, the energy issue has soared to the top of Europe's strategic agenda as a result of the Ukrainian crisis and the fear that the Kremlin will be able to blackmail Europe if a threatened trade war erupts.
Herman Van Rompuy and José Manuel Barroso, presidents of the European council and the European commission respectively, asked Obama to come up with measures that would favour European companies obtaining licences to export US shale gas in liquid form to Europe.
Obama, while not ruling out the possibility, stressed the need for Europe to diversify its sources of energy in order to make it less vulnerable to Russian blackmail, and said Europe should open up to fracking to develop its own gas supply.