Brussels Out Of Control: €200 Billion For Green Lobby
Date: 09/02/13
Environmental News Service
European heads of state and government have agreed to commit at least 20 percent of the entire European Union budget over the next seven years to climate-related spending. The seven-year budget was agreed at 960 billion euros.
All-night negotiations in Brussels produced agreement among EU leaders on budget proposals for the rest of the decade, from 2014-2020.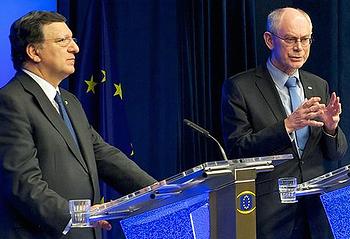 "Climate action objectives will represent at least 20% of EU spending in the period 2014-2020 and therefore be reflected in the appropriate instruments to ensure that they contribute to strengthen energy security, building a low-carbon, resource efficient and climate resilient economy that will enhance Europe's competitiveness and create more and greener jobs," the final agreement states.
Leaders backed the first budget cuts in EU history, spearheaded by the UK Prime Minister David Cameron and German Chancellor Angela Merkel. Cameron's plan to hold a referendum on Britain's EU membership strengthened the country's negotiating stance.
The seven-year budget was agreed at 960 billion euros ($1.28 trillion). By comparison, the budget for the years 2007-2013 was 975.777 billion euros.
European Commission President Jose Manuel Barroso said, "Sustainability is a very important policy and indeed it's a commitment that we are keeping across policies. In this regard, the greening of agricultural policy deserves to be mentioned, as for instance our commitment to climate protection."
"Today is an incredibly important day for Europe and for the fight against climate change," said Commissioner for Climate Action Connie Hedegaard of Denmark. "This is a major step forward for our efforts to handle the climate crisis."
The 20 percent climate appropriation was first suggested by the European Commission, the EU's executive branch of government.
"Rather than being parked in a corner of the EU budget, climate action will now be integrated into all main spending areas – cohesion, innovation, infrastructure, agriculture," Hedegaard said.