British Environment Minister: Global Warming May Be Good For The World
Date: 30/09/13
Rajeev Syal, The Guardian
Owen Paterson,  secretary of state for environment, food and rural affairs, says effects of global warming could be advantageous.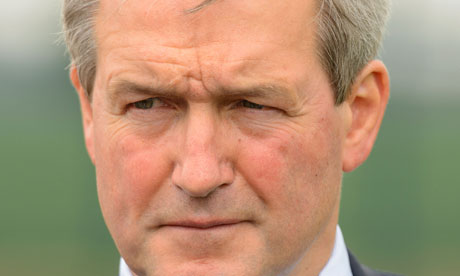 UK Environment Minister Owen Paterson Photograph: Dominic Lipinski/PA
The cabinet minister responsible for fighting the effects of climate change claimed there would be advantages to an increase in temperature predicted by the United Nations including fewer people dying of cold in winter and the growth of certain crops further north.
Owen Paterson told a fringe meeting at the Conservative party conference on Sunday night that predictions by scientists – that there could be major increases in temperature resulting in melting ice caps and worldwide flooding – should not be seen as entirely negative.
His comments came after the Intergovernmental Panel on Climate Change found last week that within two or three decades the world will face nearly inevitable warming of more than 2 degrees, resulting in rising sea levels, heatwaves, droughts and extreme weather.
Asked at a fringe meeting organised by the RSPB if the report proved that the climate is "broken", Paterson said:
"People get very emotional about this subject and I think we should just accept that the climate has been changing for centuries.
"I think the relief of this latest report is that it shows a really quite modest increase, half of which has already happened. They are talking one to two and a half degrees.
"Remember that for humans, the biggest cause of death is cold in winter, far bigger than heat in summer. It would also lead to longer growing seasons and you could extend growing a little further north into some of the colder areas