Blackout Britain: EU Eco-Directive Puts Millions At Risk Of Power Cuts
Date: 24/02/13
Tracey Boles, Sunday Express
One million homes narrowly escaped a power cut last month as bitterly cold weather placed a massive strain on Britain's creaking electricity network.
Shutdown was only avoided because a gas-fired station due to close by next winter came to the rescue. Last night experts warned that life-threatening blackouts are increasingly likely as "we head downhill – fast"…
And as a spell of bitter cold once more hits the UK, the near switch-off which came so perilously close on that freezing afternoon, underscores the magnitude of the energy crisis.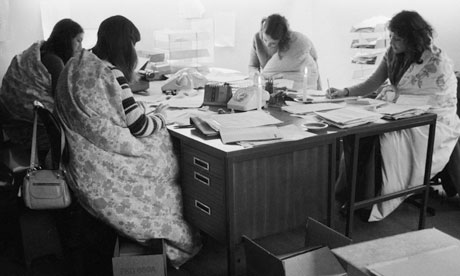 Office workers in London attempt to keep warm during the 1974 power cuts. Photograph: Evening Standard/Getty Images
The EU "large combustion plant directive", aimed at cutting airborne pollution, will force ageing power stations to close by 2015. But they will be shut down before that if they use their allocated generating time earlier.
This comes at a time when almost all the country's nuclear power stations are due to shut down because they have reached the end of their working lives.
But although the Government has made a commitment to building new nuclear stations there are no agreements in place to construct them and even the start of building work is some years away.
Jeremy Nicholson of the Energy Intensive Users Group, which represents big industry, warned: "There is a significant chance of physical shortages [of power] in peak conditions in the next two years.
"We are sailing close to the wind with an uncomfortably small margin of supply versus demand. This is not a trivial risk and not one the UK has faced before. We are concerned about the winter ahead and 2015.
"The first thing that will happen is higher prices for electricity." [...]
The Energy Bill before Parliament which is due to receive Royal Assent by the end of the year is designed to foster investment in renewable and nuclear power through guarantees backed by taxpayer subsidy.
However critics say it has failed to move with changing dynamics of the energy market which now favours gas following the discovery of huge amounts of shale gas in the US and extensive potential supplies in Britain.
But even building dozens of new gas plants to fill the generation gap looming in 2015 would mean even higher bills for families and businesses.
Ann Robinson, consumer champion at uSwitch, said: "We are facing disaster on energy prices. The dynamic has changed, but the thinking hasn't.
"What worries me most is that the average household energy bill will be £1,400 by end of the year; £1,500 is a cliff edge at which most people say they'll switch off the heating entirely."